Cezariusz - (e)motions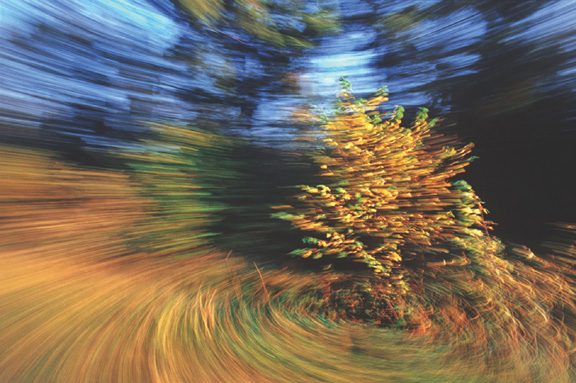 Cezariusz - from series "(e)motions" ,
Mała Gallery, Warsaw, September 2005.
PHOTOGRAPHING is not only incidental framing of reality. It is also an attempt to deliver mood or emotion. This is the case of colour photographs of Cezariusz, who while trying to record a landscape makes an attempt to confront his own feelings toward landscape that is static by nature. Employing only movement of traditional film camera and not using any artificial or electronic transformations he endowes static fragments of landscape with dynamisms.
Trees, who are most often subjects of these photographs, look like objects moving in space, everything on these pictures becomes fluid as during projection of a movie. These atmospheric photographs make us rather think about classic painting techniques and appeal – as justly the title of the series suggests – to emotions of the one who made them and these persons who look at them.
It happens so often that the very essence of a photograph is in the photograph itself and not in what is being photographed. It seems like the works of Cezariusz are trying to bring us nearer to this risky statement.
Marek Grygiel
Warsaw, August 19th, 2005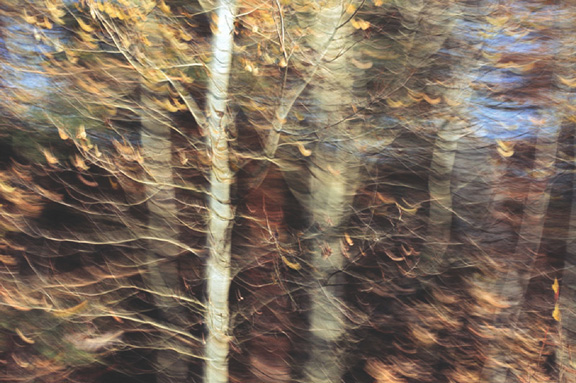 Cezariusz - from series "(e)motions" ,
Mała Gallery, Warsaw, September 2005.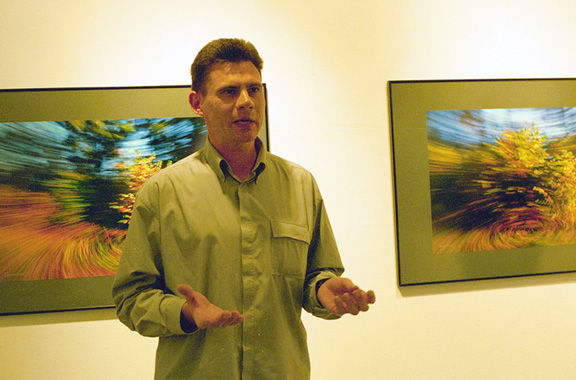 Cezariusz speaking on the opening of his exhibition at Mala Gallery in Warsaw. Photo by Janusz Lirski.
Cezariusz. Born in 1966 in Białystok, graduated from Warsaw University and State Higher School of Film, Television and Theatre in Łódź. Still and film photographer, director of independent movies. From 1984 to 96 travelled and photographed architecture, mainly Arabian. In the years 1990-98 worked on documentary and experimental movies and worked as a cameraman and editor of a few feature films, inter alia "Fikcyjne Pulpety ("Fictitious Meat Balls") of Wojciech Koronkiewicz (pastiche of "Pulp Fiction"). In 1997 directed, together with Kobas Laksa, feature film "Sceny z użycia" ("Scenes from usage"). This film received awards at independent cinema festivals. In the years 1995-2000 he worked on nude photographs. In the years 1998-2005 worked on photographic project "Images from Narew and Biebrza Rivers", creating a new dimension of naturalist photography in Poland (the pictures at the exhibition "(e)motions" are from this project). Lives in Białystok. He is a music lover and audiophile.
W FOTOTAPECIE także: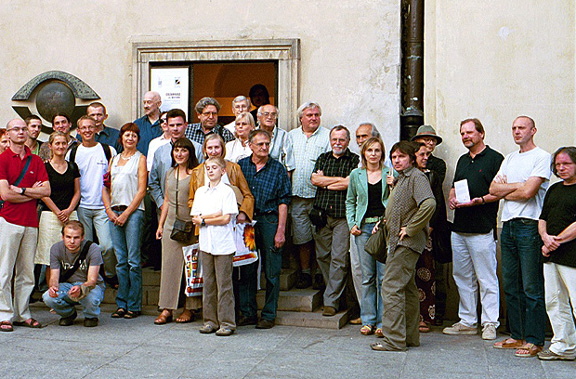 Photo: M. Grygiel
---
Copyright © 1997-2019 Marek Grygiel / Copyright for www edition © 1997-2019 Zeta-Media Inc.