Kristoffer Albrecht - ZIGZAG

Kristoffer Albrecht, Pireneje, Hiszpania, 1990, from series "ZIGZAG in Europe"
Kristoffer Albrecht
ZIGZAG in Europe
Musta Taide 1/2009
OPUS 51
ISSN 0788-2467
ISBN 978-952-5818-01-7
Helsinki Helsingfors 2009



WHEN ten years ago we wrote in FOTOTAPETA about a very interesting book of Kristoffer Albrecht from Musta Taide series we didn't have any idea that it can be the first volume of photographic recordings he made during his journeys. What  impressed us then was simplicity and everyday poetry of his photographs taken in remote places of our globe.
In recently published the second volume (albeit without any formal numbering) of his pictures Albrecht focuses on Europe taking zigzag-like route, without any predermined plan, reaching places in border areas of the continent (Baltic States, Ukraine, Russia, Portugal, Turkey) while not passing by so well known places like Florence or Cracow - recognized aims of tourist peregrinations.
It is the form of this book that makes it so outstanding. It is horizontal like the way the landscape is usually perceived, so one could believe that the photographer limits himself to landscape-like perception of places he visited. This is but only the first impression. After turning consecutive pages there come surprises: vertical pictures looking like cropped fragments of bigger photographs. They provide great contrast and relaxation after wide panoramas of Latvian fields, Scottish plateaux or mountain  pastures somewhere high in Spanish Pyrenees. In addition to variegated landscapes the artist introduces, as a counterpoint, subdued,  estheticly mature street scenes, some fragments of backyards in the centre of Odessa, the misty Main Square in Cracow with Igor Mitoraj sculpture in foreground, a DDR-era Trabant against picturesque decayed wall somewhere in Hungary or a group of men on crowded Istanbul street - with the guy closest to the camera looking  with curiosity at the photographer. Sometimes the artist adds text notes recording atmosphere of the place.  One of such notes was written down in 1988 in still Soviet Leningrad, which was again photographed in 2001 and 2003 as Sankt Petersburg.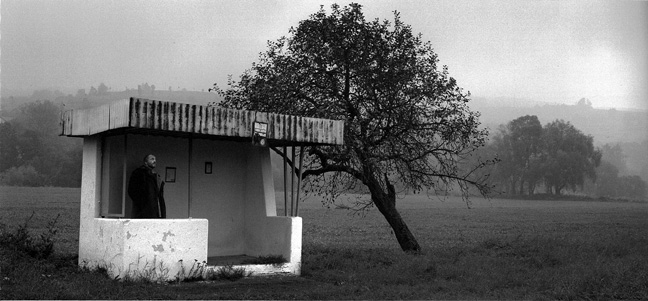 Kristoffer Albrecht, Dynów, wrzesień 2005, from series "ZIGZAG in Europe"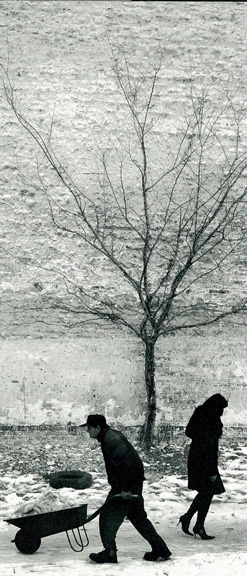 Kristoffer Albrecht, Lwow, Ukraina, 2007, from series "ZIGZAG in Europe"
All pictures are black and white. Both edition of pictures and layout were done by the photographer himself so it is very personal work, very consistently made up and perfectly printed, what is characteristic for all Musta Taide publications.
Finally, it must be said that it is not catalogue of loosely  related souvenir pictures from travels. It is an attempt to say something about Europe by showing how differentiated  is her landscape and by emphasizing a strange fact that the world so close to us does not always look like we thought before. There is opportunity to see something we did not expect. The perpetually travelling photographer Kristoffer Albrecht  reminds us about it once again.
Marek Grygiel
Photography curator in CCA - Ujazdowski Castle, Warsaw, Poland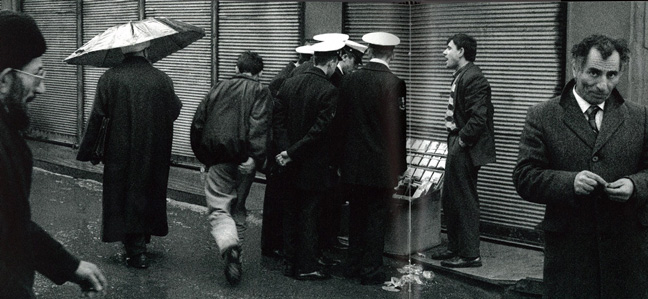 Kristoffer Albrecht, Istambul 1966 (fragment), from series "ZIGZAG in Europe"
Kristoffer Albrecht, Odessa, Ukraina, 2004, from series "ZIGZAG in Europe"
---
Copyright © 1997-2019 Marek Grygiel / Copyright for www edition © 1997-2019 Zeta-Media Inc.