Mala Galeria ZPAF/CSW,
Plac Zamkowy 8, Warsaw,
from September 9th to October 3rd, 1997
By Marek Grygiel
Translated by K. Wojciechowski
The meaning of a gallery's existence usually becomes evident if returns and recollections are possible. If the gallery is able to report on consecutive stages of art life of artists with whom it cooperates. The most recent exhibition of Wojciech Prazmowski is such a come back.
IS first exhibition of "spoiled photographs" 10 years ago marked the begining of his fully developed creativity. The treatment of photographic works, for the first time so positively "included" into three-dimensional objects as old window frames, glass boxes with sand, the memorable metal tree with rolled photographs hanging on it , was continued in many later projects of Wojciech Prazmowski. It consistently linked photography to other objects and gave photography a new, revitalizing function complementing an artistic statement.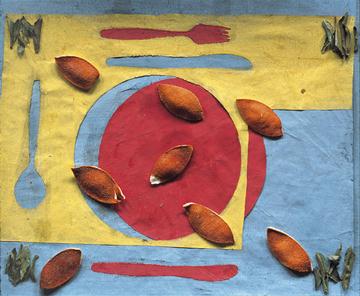 Wojciech Prazmowski - "Mediterrean Breakfast" (1997)
The lasting and persistent search for his new place in photography has caused Parazmowski to enter not only a sentimental space when he was making collages of his family album, but also the space understood as a possibility of artist's creativity. Because of that the parcels of photographs tied with a string, enclosed in various cages, boxes and metal frames have had - despite their symbolic meanings - sculpture-like character. The forms of the objects which most often were made of basic materials as wood, metal, paper, are balancing the photographs. Now Prazmowski presents more frequently sculptures and installations together with the photographs that were the reason for making of these objescts.
Because of that this exhibition of Wojciech Prazmowski being the return to basic photography (there are only photographs showed) marks also the conscious development of everything that appeared in Prazmowski's art up to now. His fascination with forms of simple things composed and juxtaposed deliberately by him yields quite sculpture-like effects in spite of that everything is contained within photographic print.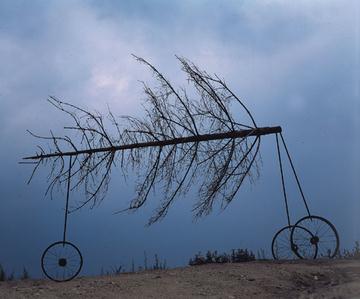 Wojciech Prazmowski - "Portable Christmas tree" (1997)
But the new element appears here, which makes these pictures essentially different from his previous works. It is used very sparingly, and is very sophisticated in pictures called "Christmas Star" or "Blue Letter" in which it scarcely emerges to the surface of the almost monochromatic compositions. In other works (e.g. "Mediterrean Breakfast") it becomes bolder, suggesting emotional and sensous interpretation of this photograph. This breaking-through to the colour could be sensed in Prazmowski's work since some time. The works presented at the big international exhibition "The Return of the Past - The End of Utopia?" originated last year in Germany and now presented in the Centre for Contemporary Art in Warsaw confirmed this clearly. The colour, so difficult in photography, is employed by Prazmowski in somewhat deceitful manner "darkening" and enveloping in mist of mystery these apparently simple compositions.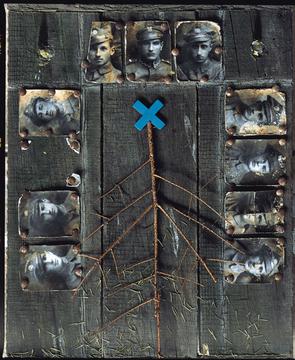 Wojciech Prazmowski - "Christmas Star" (1997)
The still life which in art history is connoted with symbols of death and vanishing (Vanitas vanitatum) constitutes for Wojciech Prazmowski the conscious next stage of constructing his own iconography of the time lost. And it is also belief, that the photography can cope with it, at least in some space defined by the artist. Even should it be the space of a table spread for a meal, of an open envelope, of piece of wood or paper put together to make VERY STILL LIFES.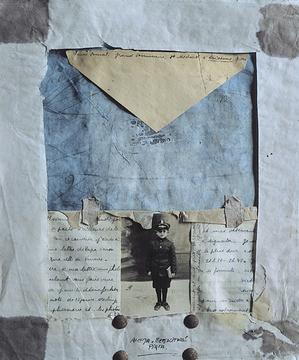 Wojciech Prazmowski - "Blue Letter" (1997)
---
See also:
---
Copyright © 1997-2012 Marek Grygiel / Copyright for www edition © 1997-2012 Zeta-Media Inc.