Life is pretty strange anyway: Annie Leibovitz
In conversation with FOTOTAPETA's Anna Beata Bohdziewicz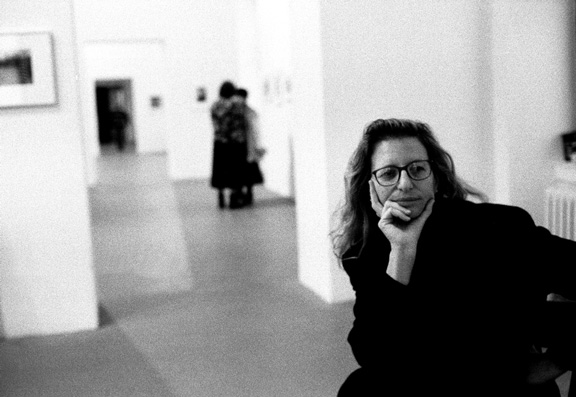 Photo Krzysztof Wojciechowski
ABB: - Are you shy?
AL : - Oh! We are all shy. No one knows how to talk. Sometimes we sit in my studio and everywhere is very quiet and no one talks. It drives me crazy... There must be a reason why people who are photographers are not very good at verbal communication. I don't want to believe this, as I think we get lazy. We think because we are photographers we don't have to try to communicate. But I know from my own personal experience that it's hard to watch something to go on and then suddenly to be talking at the same time.
- Could you say that you feel better when you hide yourself, your shyness, behind the camera. We hide and ten we start shooting...
- I don't think it is that complicated. I think that when you are younger the camera is like a friend and you can go places and feel like you're with someone, like you have a companion. And also it's a license and it makes you feel you have a right to walk around and you are doing something. I think what happens is that you forget you're there. It's not like you are hiding but you forget, you are just looking so much, especially when you're younger, that you forget that you actually exist, you know what I mean?... But things change, you get older and you have different tools and different approach and you learn to use photography differently.
- Having a camera puts you in a different position...
- When I was younger I did things with a camera I would not do by myself. I remember going down to the docks in San Francisco and asking a fisherman if he would take me out on his boat. I would never do that without a camera.
- It is a sort of protection.
- I think it's a license. In times it has been a protection. At my Rolling Stones' tour it was a protection. I used it in a Zen way. If I didn't have my camera to remind me constantly "I am here to do this" then I would eventually have slipped away, I think. I would eventually have forgotten my reason to exist. It's a heavy weight the camera you know. Now we have modern and light-weight small plastic cameras, but in the 70-ties they were heavy-metal.
-I went yesterday to see your exhibition one more time and there was a huge crowd, a lot of people going along the walls and looking at your pictures. Viewing the show myself I was wondering if it is not too big? Is it a special version for Eastern Europe?
- With all the respects to Marek [Grygiel] I think it was hanged not well. I gave Marek a map to follow, a legend... Some of the pictures were never meant to be so spread out, they were meant to be seen as a grouping. For example: the pictures of my family were always designed to be like on a family wall, they were supposed to be together. It was supposed to copy my mother's wall in her house, it's always hung that way.
They need each other, they mean to be close to each other so that you could look at them just in one glance. I am also particularly sensitive to how Sarajevo hangs. I wanted Sarajevo in there but I didn't want it to take over because it is not my intention to have it so dark in feeling, in tone. The Sarajevo pictures were always supposed to be a block. Here in the exhibition they are too spread. I feel very proud of the work from the eighties, because it is very bright and colorful, but I was balancing it with this later work. I was trying to counteract all the very popular work and I think I made it a little too dark. It is a little too down in feeling and I wish it edited a little more positive. Also each place it hangs it looks different and I always thought there should be some doubling up. Especially at the end where there is portraits and they look better hanging all together. It's confusing, the way it is hung. It's supposed to be chronological but it's really not. It s very hard to understand. Mentally there is a lot of material there and you are supposed to look at it differently
- I was astonished that the prints are rather small...
- It is another problem too... The original show was made back in 1991 and I made the prints 16x20 inch. The prints in the beginning are small and then they get larger, and you can feel that they are larger and simpler. And the very last ones, the Olympics-ones, are really the biggest ones.
As the show traveled I took maybe five pictures and made them a little bigger so that when you walked into the room you would see the big ones. There was a bigger John and Yoko, Keith Haring was bigger... But this show that is now traveling in Europe, we just have put them all in the same size. We did not make the new set of prints. We could not afford to carry larger pictures. Originally when I made them there were big to me, but when I saw them in the space they weren't very big, and I was concerned that if they got bigger they would look too slick , too commercial. I thought that if they went too big they would be too fancy. And I liked the idea that you have to walk over to the picture and also they were in the small rooms. Every time the show travels you realize that it doesn't fit in every space...
- Of course!
- When the show first traveled across US and Europe I was hysterical all the time, you know... I would send either art director or myself would go and hung the show. Before I brought the show to Central Europe I did feel like adding a few more things to it and also I took some things out. And I never had the chance to see it hung. When I was in Bratislava it was already made but I had the opportunity there to go around and rehang it. This time because of money, time, decision I didn't want to be so controlling. On the other hand I thought how bad could that be. Each place it hangs it looks different. I am just so happy to have the show here.
I know you should always do the best you can but it was just such a feast that it did not matter... Marek had a lot of rooms and he spread it out and when I was going and doing my talk I was surprised that there is yet another room. Its a long way... We Americans are very different in that respect and I don't think there is anything wrong with white space. I don't think it's a problem to have a blank wall. And I could see Marek suffers from fear of a blank wall... but it would be O.K. to have one wall with nothing on it. It's O.K. You don't have to cover every single little space.
- We are not very used to that...
- That's another reason that Marek was wrong, because when the pictures are put together as a grid they make a big picture. The Sarajevo when it was put as a grid it looks like one big picture. The family pictures too, when they are hang together they bring you over, they work like a big picture. And there's none of that in this show here. It's all in the hanging. You can change the feeling completely by how you hang.
- Do you make the prints yourself?
- Not personally. I work with two printers who work for me for twelve years... There is also the problem that every time you go to a different place it's lit differently. These pictures were made to have some light on them and in the rooms where there is no light they look too dark.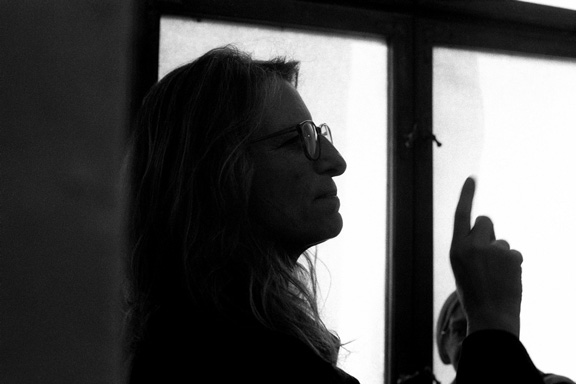 Photo Krzysztof Wojciechowski
- Generally we understand the portrait as the face of a man. But in your portraits it is much more often the body than the face.
- I did not know I was doing it when I was younger. It was a natural thing. My lens of choice was always the 35 mm. It was more environmental. It was more or less the style of that lens to be a little pulled away. Because you can't come-in closer with the 35 mm. I did have the 105 mm lens on the other camera but the most of my work was done with 35 mm. Coming tight was boring to me. Just the face... it was a boring kind of photograph to me. It didn't have enough information.
But then... there is never an easy answer... I was young so I was scared of coming closer. I was even scared to do anything in the studio because it felt so claustrophobic. I wanted to be somewhere where things could happen and the subject wasn't just looking back at you. It was too demanding for me to do a picture where someone is looking straight at you.
- But your pictures from the eighties are also like this... There are mostly situations.
- They are the situations because I wanted things to do... So that you are busy. It was much more comfortable to be doing something and the subjects felt more comfortable if they played the role than if they had to be themselves. I am sure you experienced this that when you go to take someone's picture and the first thing they say is "what you want me to do?". Everyone is very awkward...
- The subjects want to look pretty first of all...
- Ha, ha, ha...
- I have the impression that people are hiding in the situations you create. And I am asking myself if these are really portraits and if they are then who's portraits are they? Of the subject or of you, of your personality? Or maybe these are portraits of your subjects work? You said you don't want to photograph how people look but you like to show what they do, but on the other hand you don't photograph them at their work... you sort of create the situation that comments their work....
- What I've done over the years is created a vocabulary of different styles. Today, when I go to take a picture I draw from many different ways to take a picture. Sometimes I go back to reportage, to journalism, like I did recently with the vice-president. I basically said I'd like to spend a little time in his office, and here, and there, doing the pictures in a rougher style rather than a set-up style.
But really what you're seeing is me learning about photography and learning on subjects. And now I can draw in many different styles that help dramatize or bring out, or explain the subject.
In the eighties it was much more conceptual and much more playful and it was involving. I don't agree that they are hiding because I think that when you involve people they come out, you see them, you get to see their sense of humor. For example the Clint Eastwood tied up ... You cannot but think that Clint Eastwood must be pretty funny. No one ever thought Clint Eastwood was funny, but he was. Why would he do that, why would he let himself to be tight up unless he understood that there was silly side of this.
I think it was an interesting piece of information about him. And right after that picture was taken he did several funny films with a gorilla... Why would you think someone is hiding? I think hiding is an interesting piece of information too, if someone wants to hide ...
- But it seems to me your personality is stronger that of your subjects. So you let them hide. I see more of you than of them in many of your pictures...
- It was in the eighties, a period that I was really competing with myself, when I was trying to make every picture more graphic and more conceptual. When you look at the later years you'll see that there is less of that...
- Absolutely... I can see that.
- I was trying to make the show about photography and not about the celebrities. I was trying to really emphasize photography. This is why I wish the show was really done in a strict chronological way. You would then see the style grow and change...
- For me one of the most striking portraits in your show is one of your late photographs, the portrait of Josif Brodski. Could you say something about it?
- Well, the only reason it is striking - as I've seen better portraits of him - is because he doesn't look happy, he looks very uncomfortable. And I thought that was interesting. I only shot a few frames of him when I was shooting a group of Nobel prize winners and I asked each one if I could take five, six pictures. He was very nice...
- I met him when he was in Warsaw last time in 1992 and I also took some pictures of him. I think there was something very tragic about him.
- He looked like that all the time to me, uncomfortable. He could have been physically uncomfortable because of his heart. I met him a couple of the times and he always looked like that. This photograph is like a war photograph, he is in pain. That's why he was writing what he was writing. If you look at later pictures you can see that I am coming in closer now, because I am older. I am not afraid to do it... But there is also a very few people that you want to look at their face. Irving Penn said that he didn't want to photograph anyone under sixty and I think there is some truth about it. Every photograph I took of older people, their faces are amazing...
- The smallest print in the exhibition is the photo of a naked woman crucified.
- Susan [Sontag] screams at me every time why it is so small. I like it small because it reminds me of when you would go into someone's home and you would have Jesus on a wall behind the bad... Diamanda Galas is a performance artist. She is very demonic kind of performer and controversial...
- I wonder if someone who will notice really the picture in the show...
- You did...
- ...in Poland, the catholic country, it can offend somebody's feelings...
- It would be interesting to know the reaction... But it has more to do with her personal experience. She lost her brother to AIDS and she did a lot of work, a lot of her performing where she stands and screams for an hour.
- Is the photo a shot from her performance or is it a set up?
- After we did the picture it was because she wanted the cross, she took it home. But this was more a collaboration to think of something new for a photograph but it's based on her work.
- Some of your pictures from the nineties are very dark, they look a bit like the low-key technique... Do you use a special kind of negative?
- It is a polaroid negative. 6x6,5, you can see the corners of the polaroid and it's a very beautiful negative, it has very little grain and it reminds you of an of an old-fashioned negative. You know, black people against dark black fond in black-and-white always look beautiful to me! You can see how exciting it is in my Olympics work, it was almost an embarrassment of riches, their skin loves black-and-white photography.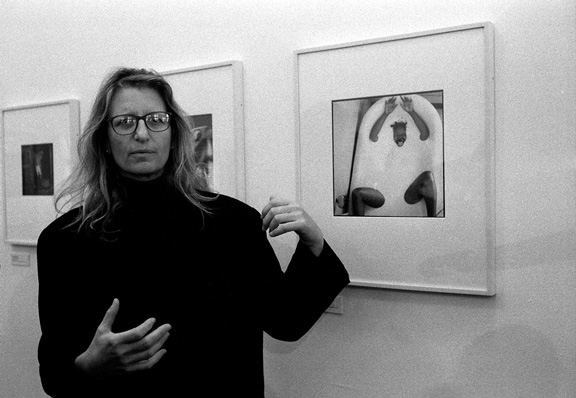 Photo Krzysztof Wojciechowski
- Have you ever met Diane Arbus?
- I never met her but I knew people who knew her. I remember coming to New York in the seventies to live there. When I was walking dawn the streets I remember thinking - oh! Diane Arbus had it so easy, there is like Diane's Arbus picture every single corner in New York! That is a bit simplified with Diane's Arbus work because Diane Arbus really knew people she photographed and became friends with them and went into the cave, sort of speak... She was a very, very important photographer because she was taking pictures of people that we as a society did not want to look at. Not that we didn't want to look at them, we didn't even see them.
- She committed suicide. Do you think it was because how deep she went into the subject?
- I think it's so complicated. It was not just because of one thing. She was always very troubled. One could read all kinds of things into it. Did you read the Patricia Boss book about her?
- I read a quite thick biography of Arbus but I don't remember the author.
- I did not want to read it but I red it and then I wished I could read more... I think that she probably felt comfortable with people she was photographing maybe more so than with other people. Is the question that she saw these people and got so depressed that she killed herself? No...
- No, no, no...
- She saw those people because she related to them, and she probably really enjoyed them, they were real friends ... Anyone who lives in New York knows that this is perfect New York. That's why when I first moved to New York at every corner I could see Diane Arbus picture. But I would not even see these people unless I looked into Diane's Arbus pictures. I would mentally not been looking at these people.
- Richard Avedon in his book "The American West" tired to repeat Diane's Arbus work?
- He wished. He whished... He wanted to be Diane Arbus, very bad... He was criticized because he wanted to be Diane Arbus, but it is perfectly all right. I think he did a great work in the West. He is very, very honest about how and what he did and why he did it. He was totally impressed with Diane Arbus and admired her, embraced her. Her douthers, Amy and Doon, are his best friends right now. How can one not amire his work embracing that brilliance. He could never be Diane Arbus but he could certainly integrate in his work what he saw there in her work. And we all do that, we all do that! That what's wonderful! There's nothing wrong with that. We all live in this world and we all feed of each other. That's part of it. It's great, it's great! You know...
- I know but I just wanted to hear your opinion about it. I admire Avedon's work, for me he is one of the best.
- He's a great photographer, he is a really great photographer. He's an important photographer. He's just a very, very smart man. He's a great example for photography because he is in his middle seventies and he is still taking pictures. He's great! What is he eating... Forget all... but what is he eating! What is his exercise routine!?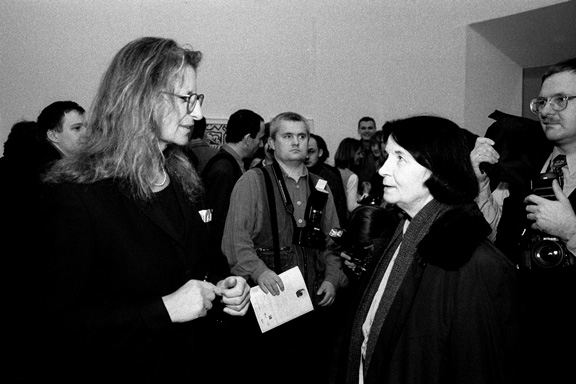 Annie Leibovitz and Urszula Czartoryska, Center for Contemporary Arts, Warsaw, January 1998. Photo Krzysztof Wojciechowski
- How do you feel in the present times, times of computer picture making, of virtual reality. Photography is somehow loosing its credibility...
- It will never loose its credibility.
- So you don't worry too much about it...
- It doesn't concern real photographers. People who don't get it, who aren't smart enough, they work with this and at some point this work will be integrated into photography in a good way and it will be a tool... I mean it always was meant to be a tool. When something is new and comes along and is overused and abused, and misused, until you figure out how to use it. It will have to be eventually some good and it will. I use a computer in my studio for lay out now and it's really valuable. Computer photography won't be photography as we know it but it would be something else. I think photography will always be chemical... There be one more way to use it, a different style. I personally don't like it, the work which is manipulated looks a little boring to me... I think life is pretty strange anyway ... It is wooo, wooo, wooo!... You don't have to sort of enhance reality. It is already pretty weird ... you know that there is nothing stranger than truth. I feel that there's still so much work. When I take a picture I take 10% of what I see. So how do you get the other amount, that's my work.
- I am happy to hear that you think this way...
- But you knew all these answers!
- No, no...
- Yes you do, you do. You just want to confirm them... You know all this.
- You said on the press conference that during a photo session you make like 100-200 shots. Why do photographers have to take so many pictures?
- They don't have to...
- But they do.
- There's probably no excuse for too many pictures. But I have learnt that when you are on assignment film is the least expensive thing in a very practical sense. Your time, the person's time.. the time turns out to be the most valuable thing. But I am impressed with what happens when someone stays in the same place and you took the same picture over and over and it would be different, every single frame. So it confuses me because a very subtle difference can make the picture or not. When I went to school and I looked at my contact sheet every picture was different. I actually don't think I am shooting that much. What I end up shooting now is the situation. I shoot the composition and my subject is going to help the composition or not. I shoot a little bit, maybe two rolls, medium format, which is twenty pictures, and then if I see it's not working then I change the position. But I am surprised when you do portraits and you're working with people the little nuance, the little difference is kind of amazing. But definitely it is a speeded up process. You know the dangers of shooting too much and being lazy. It can be dangerous.The motor drive was a very dangerous invention. I don't use it on my medium format, but I use on my 35mm because I am left-eyed. What are you?
- I never know until I have the camera... I am left-eyed too...
- And you see the cameras are designed for right-eyed. And in order to crock the film you have to take the camera away from your eye. So when you have the motordrive you don't have to take it away. Of course you know if you're Cartier-Bresson, then you put your camera here, on the stomach level, and you do click, click, click, you shoot three pictures and you go home, but that's if you're Cartier-Bresson.
- He stopped taking pictures. This is also interesting why certain great photographers stop taking pictures?
- I think the reasons are that when you're younger it was your friend, it helped you and then suddenly it doesn't have the same capacity. I used it as a way to make friends, or be friendly, or to have an exchange because probably I didn't feel as comfortable without it. Now I don't need it all the time , but I still need it because it is the only reason anyone is talking to me .... ha, ha, ha... because I am a photographer. I used to shoot all the time, I still do but not as much, just snapshots. And those are like souvenirs. And then everyone keeps asking you for the pictures and after while you get tired of that... You know what I mean? And then you go see your friends next time and they ask: oh? when are we going to see those pictures? And you say: oh, they're coming, they're coming!
- I always say - they are in the archives...
- What I am interested in now is the landscape. Pictures without people. I wouldn't be surprised if eventually there are no people in my pictures and there's just landscape because it is so emotional... I felt that looking at your landscapes. Landscape is still the portrait, the portrait of the earth. I've always been interested in the environment. When I was doing polaroids for locations I often liked the pictures better without the people. I am very drawn to landscape portraits. Do you know Lynn Davies's work? She was the friend of Robert Mapplethorpe's She has travelled all around the world to very special emotional places and took very beautiful landscape. I feel that this is the kind of work I would be doing if I was not doing the work I am doing.
- They are so beautifully blurred. How did you get this effect? At shooting or later, at making the prints.
- This was the first time I actually was on an landscape assignment. I could go anywhere in the world... And I thought maybe I would stay in the United States to begin with and I chose Monument Valley which is the very famous American landscape. It turned out to be a movie set, really. It is used for all the John Wayne movies. I was flying on the plane on my way to Monument Valley and it suddenly hit me I chose the place that have been photographed so many times! And I realized that I was going to have to be competitive with all the photographs of Monument Valley and that - shit! - this is going to be very hard!
And for five days I went in jeeps all over trying to find a place. In Monument Valley the place to take the pictures is where the picnic tables and the garbage cans are. There is one spot when you look at Monument Valley and it's with souvenirs tour and picnic tables. It's the place where Ansel Adams took his pictures, everyone took their picture from the same spot. The very last day I was offered to go up in a helicopter. I thought it was cheatty to go up in a helicopter. But I decided to do it. I went up and I kept the helicopter at the same height as if you were on another rock. So I was never looking dawn, I was always at the same height. The sun was going dawn and that's why there is movement. Actually I landed on the top of that rock and we walked around.
- This is kind of personal, you may not answer... As far as I know you don't have your own family, husband, children... Do you think it helps an artist or not?
- I do think it's being a sacrifice. It's a classic story of time going much faster than you realise. I do think the work is one in that respect and that I will probably have some regrets, but I don't think it's too late. The work is a big baby, and I've said this before, it has to be fed and you can't do anything else you really can't. I fortunately have a set of good friends but everything has felt like it has been for the work, feeds back the work. I come from a big family and they're very supportive, five brothers and sisters, they have children, my parents are still alive. I am very fortunate in that respect. But it is no doubt about it that... time goes very fast...
Anna B. Bohdziewicz interviewing Annie Leibovitz in Warsaw's Hotel Bristol, January 19 '98. Photo: M. Grygiel
- When I interview people I always ask this as a first question. Here it comes as the last. What do you prefer cats or dogs?
- Oh G-d! If I had any they would be dead...
- No, but I mean from esthetic point of view...
- They would be rotten dead cats and dogs because I am never home! Recently I've been looking at Russel teriers... they're very smart... I met one.
- Oh! So, you're for the dogs! What a shame!
- I came to work one day and there was a very ugly white puddle under my studio manager's desk and she was trying to hide it. I asked - what is that!? This fat, overweight, big, ugly puddle?!... And it turns out it was her mother's dog and it's called Jazzman... It's like "your mother's dog's name" , ha, ha, ha... So I've grown to really like the dog very much. I think it's dogs. What do you like, what you have? You have a cat.
- I have a cat, black cat... It's name is Pimpa...
- Ooh! Suddenly you look like a black cat...
-- Because I have been or I will be a cat in my future life, that's for sure...
- As soon as you say it you look like a cat. I liked talking to you because you are a photographer.
- Thank you! Thank you very much for your time and patience. I hope one day we will have more time to continue our conversation...
---
Copyright © 1997-2013 Marek Grygiel / Copyright for www edition © 1997-2013 Zeta-Media Inc.