Traffic Club, Sala Klubowa,
25, Bracka Street, Warsaw, Poland
21 December '04 - 15 January '05
Opening party: 21 December 3004, 19:00
closer...further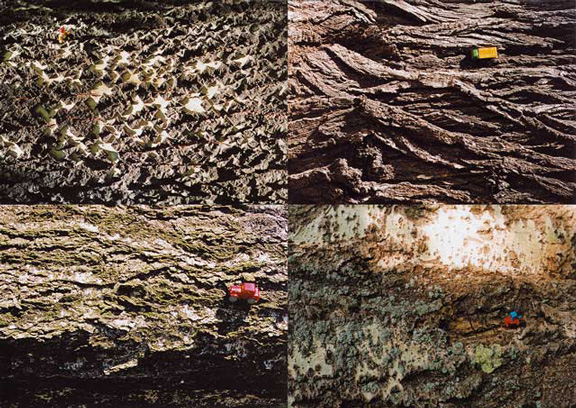 Photo Elżbieta Andraka, closer...further
WHEN almost a year ago I suggested closer...further as a project theme to my students at Studium Fotografii I was thinking of the means employed in photography to render and manipulate distance. Wide, telephoto and zoom lenses and depth of field all determine the range between camera and photographed subject and have a great impact on the image. However, the photographic context of distance was just a starting point of the project. I was hoping that every student would be inspired by these seemingly contradictory notions and would interpret them in a much boader and highly personal way. The theme resonated with the group. In the course of a few months, twenty participants of my workshops produced photographs relating the subject of distance and proximity spheres of human experience as diverse as geography, time, psychology, human relationships as well as the elusive flux of thoughts and dreams through our minds.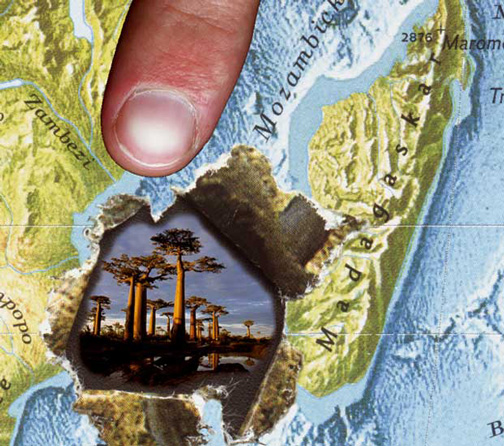 Photo Miłosz B±czkowski, closer...further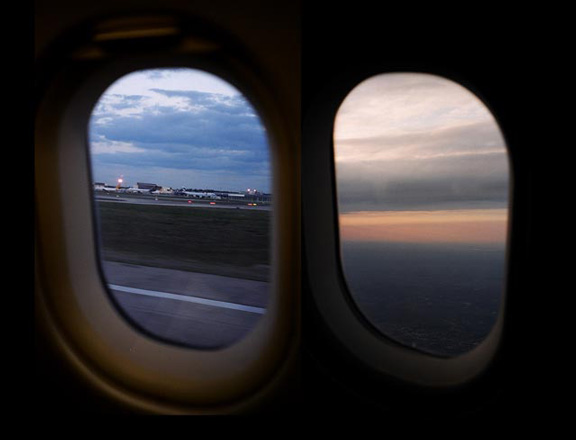 Photo Małgorzata Kwilosz, closer...further
Physical distance as experienced in daily life or on an exotic journey is the theme of a photographic installation by Miłosz B±czkowski, Dorota Lorek's colour tryptych 'Closer...further from Heaven' and a set of two photographs from a passenger plane window by Małgorzata Kwilosz. In her colour photographs Elżbieta Andraka manipulates our perception of distance. Her close-ups of small objects placed on tree bark can be seen as large areas photographed from above.
Distance between childhood and old age is addressed in Marcin Morawski's colour photographs. Beata Kuczmarska applies the classic notion of the three ages of man to the members of her own family. Agata Faliszewska presents black and white portraits of a father and son gradually dissolving into the uniform blackness of the pupil. Her work questions differences and similarities between members of a family and points to the superficiality of differences between people.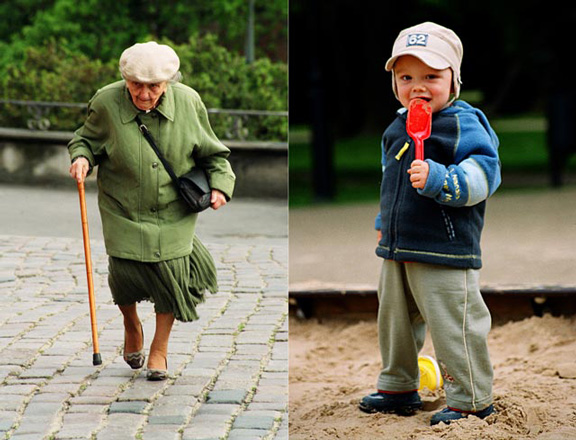 Photo Marcin Morawski, closer...further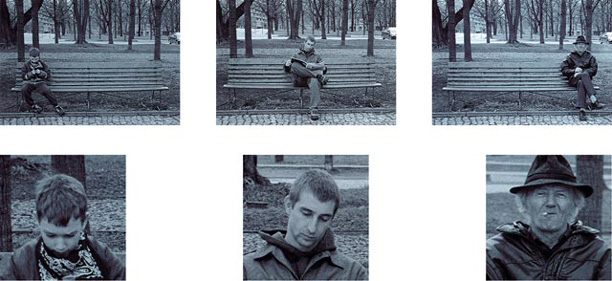 Photo Beata Kuczmarska, closer...further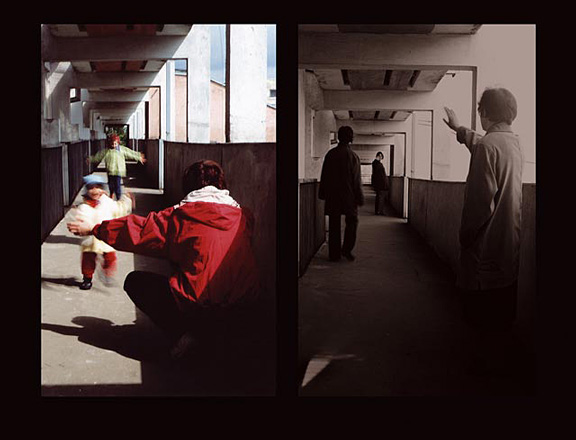 Photo Artur Bułatowicz, closer...further
Agnieszka Zysek's photograph shows fragile nature of intimacy in human relationships. Artur Bułatowicz's, images recognise both welcomes and farewells as being essential to human relationships. "Closer...further from home" by Dorota Król is a reflection on children growing up and moving away from their parents. Elzbieta Galas, Tomek Zygmont and Marek Żmudzki offer a humorous challenge to conventional perceptions of distance and space.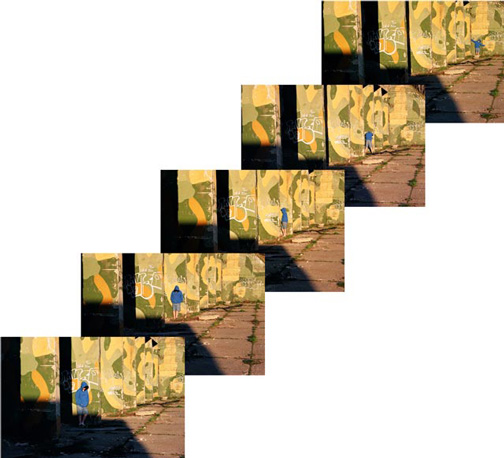 Photo Dorota Król, closer...further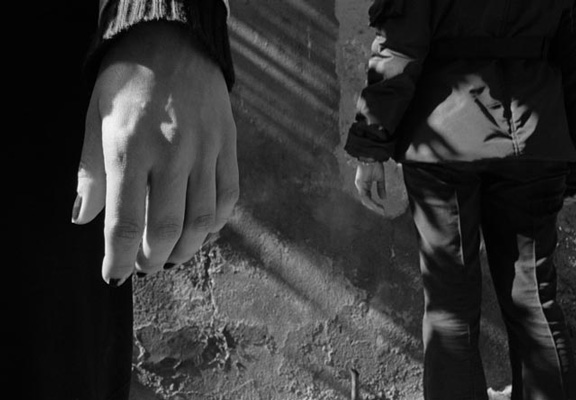 Photo Agnieszka Zysek, closer...further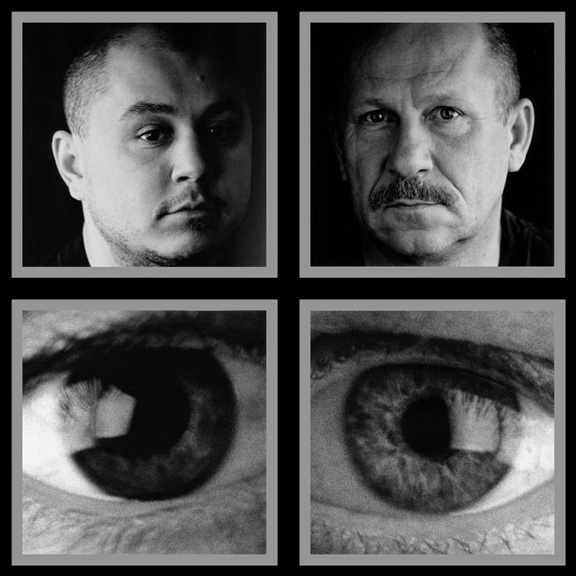 Photo Agata Faliszewska, closer...further
The symbolism of a house as a close and familiar space, as opposed to the distant world outside is expressed through Marek Ch±dzyński's poetic images and in sombre photographs by Jolanta Witkowska. Monika Leszczyńska's single photograph, modest in size, yet intense and evocative in mood, explores the notion of intimacy of an interior.
Sławek Chelis explores a theme of the dynamics of thoughts processes and the ebb and flow of creative ideas. A colour tryptych by Jagna Olejnikowska reveals the elusive distance between waking and sleeping. Jolanta Rycerska's black and white photographs offer an abstract treatment of the subject and represent merging and diverging forms of the human body.
Photo Marek Ch±dzyński, closer...further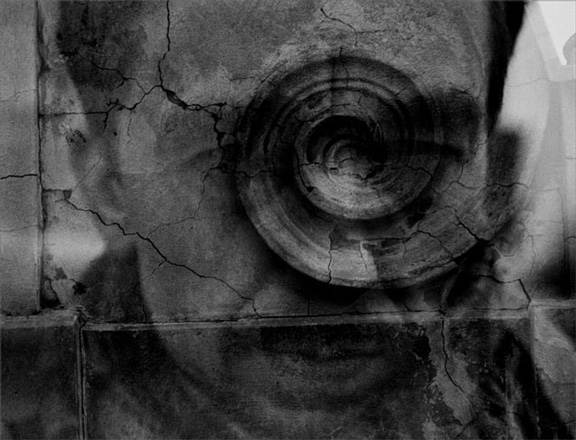 Photo Sławek Chelis, closer...further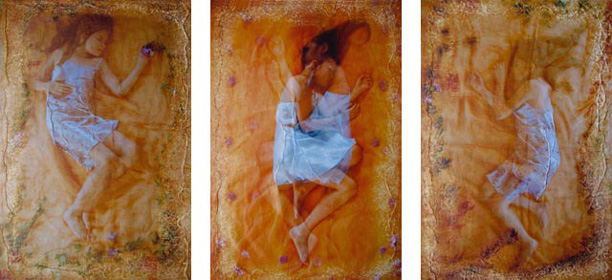 Photo Jagna Olejnikowska, closer...further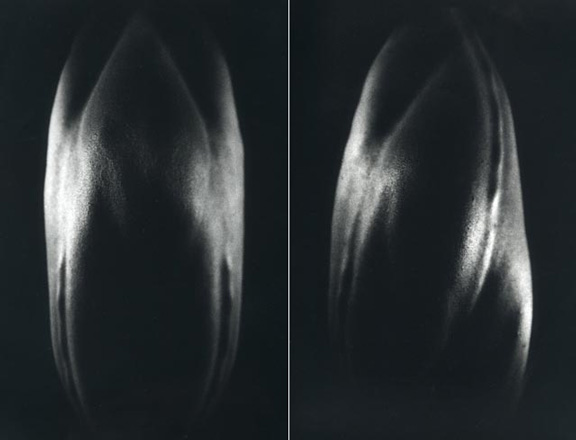 Photo Jolanta Rycerska, closer...further
Magda Kacperska's theme is the dynamic relationship between photographer and light, as the substance of the medium.
The diversity of styles and approaches shows each work as an authentic and personal response to distance and closeness. Initially perceived as simple opposites, they have been significantly re-evaluated in the course of the project. Presented in the exhibition are photographs that show the relationship between distance and proximity as complex, reciprocal and sometimes subversive. That which appears close is often far away, whilst that appearing far away is often very close.
Basia Sokołowska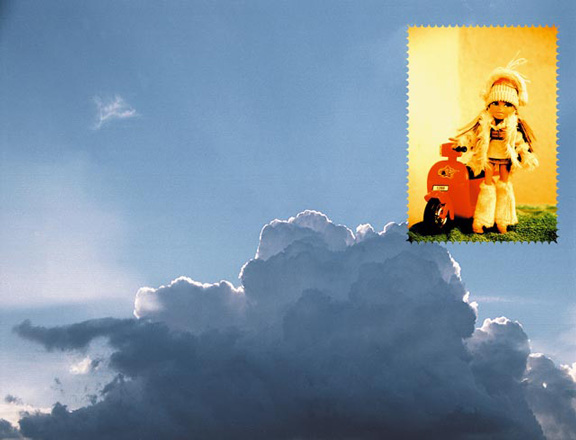 Photo Elżbieta Galas, closer...further
Photo Monika Leszczyńska, closer...further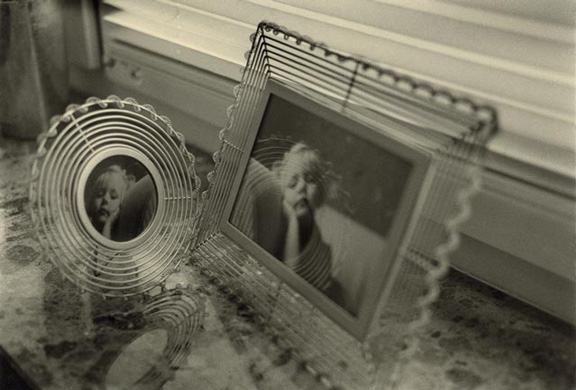 Photo Jolanta Witkowska, closer...further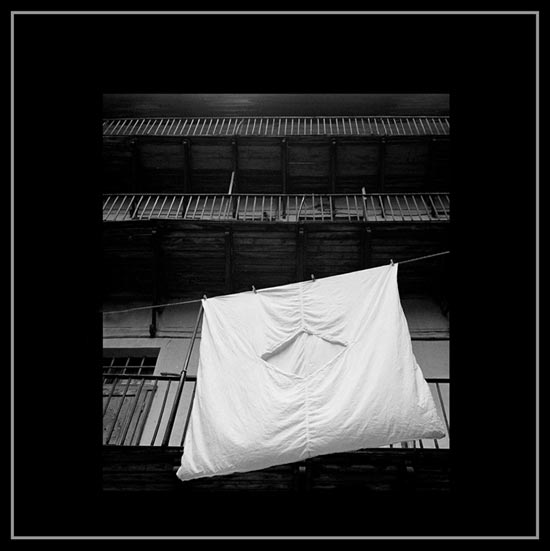 Photo Marek Żmudzki, closer...further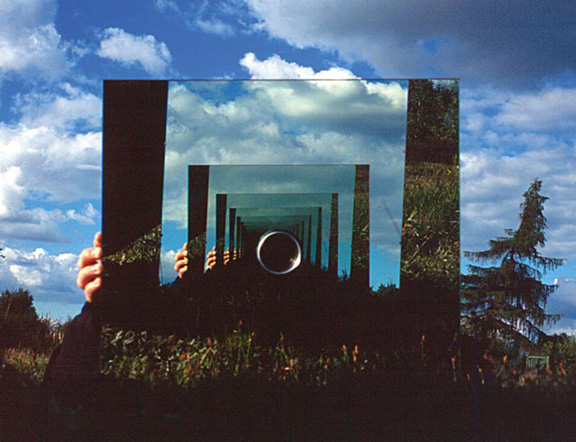 Photo Tomek Zygmont, closer...further
Earlier in FOTOTAPETA:
Zobacz też:
---
Copyright © 1997-2019 Marek Grygiel / Copyright for www edition © 1997-2019 Zeta-Media Inc.